Hot Air Balloon Rides
The layout design of Canberra was conceived by the Art Deco landscape architects Walter and Marion Burley Griffin following an international competition in 1912. The city is nestled beautifully into the the landscape of the foothills of the Australian Alps. Viewing the city from the gondola of a hot air balloon enriches the Canberra experience. The conference organisers encourage participants to consider taking to the air by balloon to enrich their sojourn in Australia's capital.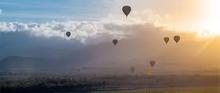 Drifting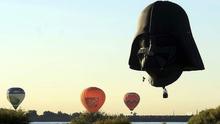 Hot Air Balloons 2013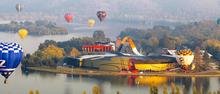 Drifting over the National Museum
Hot Air Balloons over Canberra
To indicate the importance of hot air ballooning Canberra celebrated its centenary with a world first artistic balloon commission.
The organisers have invited Balloon Aloft Canberra www.canberraballoons.com.au the official partner to provide special hot air balloon rides on the early mornings of the Tuesday, Wednesday, Thursday and Friday depending on weather. Ballooning provides passengers with a way to view Canberra's top attractions the way no others can, and enjoy the unique experience of floating gently over one of the most beautiful cities in the world. Balloon Aloft is locally owned and operated and has been flying passengers over Canberra for 20 years. The company established commercial ballooning in Canberra and also instigated Canberra Balloon Fiesta, which is one of the most recognised and popular attractions of the Canberra Festival each March.
Crew and passengers assemble just before dawn for a flight briefing. Meeting time is 5.00am with hotel pick up 15 – 20 minutes before this. Passengers are then taken to the launch site, which the balloon pilot will choose on the day depending on wind conditions. Passengers are invited to participate in the inflation of the balloon.
While they fly, the retrieval crews on the ground chase them to the landing site. Each flight is celebrated with a glass of champagne and each passenger is presented with a personalised flight certificate.
Total tour time is approximately 3 hours. Flight duration is around 1 hour. Transport to/from hotel or Shine Dome to launch site is included. For participants and social partners of HFI/NQI 2014 Balloon Aloft Canberra are happy to offer a special discounted price $250 per person.
Interested participants and/or partners should book a flight via this email address directly with Balloon Aloft Canberra and note along with their booking that they are participants of the 'HFI/NQI 2014 conference', for further information on booking your balloon ride go to the HFI/NQI page on the website CLICK HERE
Balloon Aloft would like bookings to be confirmed and paid for within 14 days of the start of the conference.